Iowa, part two
First, I will say that NO pictures have been uploaded yet. Some of them might still be on my camera, even. I'm working on it. I promise. :)
So more random details about our trip to Iowa. We flew in to Omaha, via Salt Lake City. Elliot was very well behaved on the plane. He had some trouble falling asleep during the first leg (he was a lap baby), once he started snoozing he stayed sleeping. He also did a lot of sleeping on the way from Omaha to Des Moines. We stopped in a tiny town along the way and ate a local family restaurant. He completely charmed the waitress with his smiles, although she didn't seem impressed that we were from California.
We stayed at a suite at the Marriot in Des Moines. Seems kind of luxurious, but since Elliot goes to bed pretty early, Gary and I wanted to be able to stay up later without disturbing him. And it worked very well. We kept Elliot on California time, so he was waking up around 9.30 and going to bed around 9.
I won't go into all the details of all of our visits, suffice to say that we saw almost everyone in Gary's family. Spevie (Gary's maternal grandmother) hosted a big family reunion party on Saturday, and everyone was there. Aunts, uncles, cousins (lots of cousins), and grandparents. It was lots of fun, and Elliot didn't mind being held by anyone. He is the youngest kid in Spevie's family, although Gary's cousin Sarah is expecting in the fall.
We did lots of eating while on vacation. Memorable meals include pork tenderloins (courtesy of Spevie and Charlie), Taco Casa (a good Iowa-Mexican taco shop), frozen custard, and Dutch letters. Although not the healthiest food, it's stuff they don't have here in California, so it was a great treat. Our favorite sandwich shop, Sheffields, has since closed shop. Spevie also hosted "Christmas Dinner" the day after the big party, since all of her grandkids were in town. No gifts were exchanged, though.
Because our trip was so short, we packed in a lot of visits each day. Elliot took a lot of short naps in the car, so by the end of the trip he was a little road-weary. On the last day we visited Warren and Patty's pet store, Premiere Pets, Warren's parents (who almost wouldn't let us leave with Elliot!), Raymond (an old family friend), the custard shop, and the Dutch letter bakery (see above). We headed back to the Iowa-Nebraska border the night before our flight. The hotel didn't have any cribs available, so we fashioned a makeshift bed for Elliot with the bedspread and several pieces of furniture. He didn't seem to mind.
Nothing exciting happened on the way home. The funniest part was during our layover in SLC. I bought a couple of sandwiches for lunch, and Elliot became fascinated with the dill pickle spears that were included. He grabbed at one, then sucked on it! We thought after one taste he would spit it out (they were pretty sour), but he loved it. After dropping one on the floor, he went after the other with a vengeance. Alas, it was time to board and he never got a chance with it.
Posted by Jen at
03:48 PM
|
Comments (0)
Iowa, part one
We just got back from Iowa. I'll put pictures up on the web soon (ha!), but this one I've got on my computer already so here it is. It is Elliot and his great-grandmother Darlene (Gary's paternal grandmother). Gary snapped it with Darlene's cellphone (hence the instant access and not-so-great quality), and got lucky with them both smiling at the same time.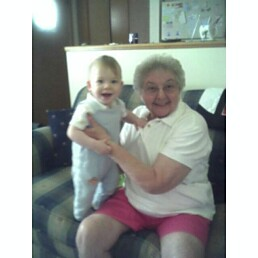 Gary's maternal grandmother, Spevie, hosted a big family reunion party while we were out there. All of Gary's family was there, and we had a great time introducing Elliot to everyone. He was a real trooper, too, and didn't mind too much when we made him stop trying to eat the rocks in the backyard.
Posted by Jen at
05:14 PM
|
Comments (0)