random Elliot update
Some recent factoids about Elliot.
Elliot recently added two more words to his arsenal: baby and bubble. These, along with ball, more, milk, water, bear, and dog (or close approximations of the words), make up most of what we can understand. He does say dada and mama, but rarely to our faces. Most animals are dogs (including our cats Frito and Trixie), except his stuffies, which he calls bears (even though most of them are dogs).
Things Elliot can do when asked (at least some of the time):
-bring us items (like his cup of milk, or a ball or blanket)
-take off his socks and put them in the hamper
-clap
-dance (although typically there needs to be music on)
-look up (especially useful in the bathtub)
-point to various objects (and he knows a lot of them! Floor, ceiling, window, fan, lights, plants, cats, boxes, tables and chairs, etc. Interestingly, if I ask him to point to mama, he won't, but if Gary asks him, he points to me. Same when Gary asks him to point to daddy.)
-open and close drawers
-put items back into a drawer or box (although for putting legos away he prefers to fling them into the box, which makes a pretty loud noise. This means he shuts his eyes before the lego has left his hand, and, it seems, sometimes before he has really aimed properly.)
Back in September Elliot went through a fidgety phase, in which he was unable to sit on our laps and sit through an entire book. Usually after the first or second page he would slide off and find a toy to play with. Luckily this lasted less than a month, and now he will find books, bring them to us, and climb into our laps to be read to. He does still get bored sometimes with the selection, but usually he will go in search of another book. So far we are only reading board books, partly because of durability, and partly because they are a good length (usually ~16 pages).
I predict it will take a long time for Elliot to learn to talk on the phone at home. Not because he can't use the phone; on the contrary, he is proficient at locating every phone in the house, picking it up, and holding it to his ear. He is also really good at pressing buttons, and the model we have has a large silver button to pick up, and hang up, the phone. He is really good at pressing this button. Recently he's also learned some of the other buttons on the phone, but so far our phone bill hasn't seemed unusual, so I'm not worrying yet.
On the other hand, I predict he'll be able to kick my butt playing computer games in about 2 weeks. He knows how to hold a game controller, and has figured out that if he presses buttons on it, stuff happens on the screen. One of my programming tasks is to write a simple computer game for him.
And here are 2 recent photos from daycare: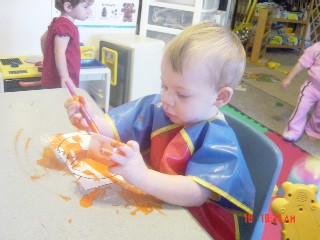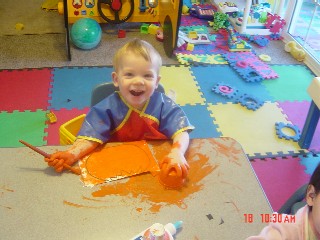 Posted by Jen at
07:15 AM
|
Comments (8)